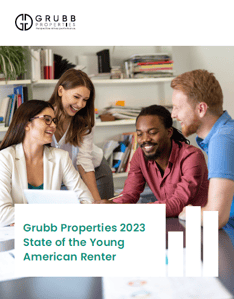 At Grubb Properties, we are committed to meeting the needs of multifamily renters in our markets.
To that end, our annual nationwide multifamily renter survey reveals some renters' attitudes and perspectives on the current rental and economic environment, as well as their preferences and priorities for their homes.
Download our Today's Young American Renter: 2023 to get an executive summary of the results of our survey administered by Wakefield research, which polled 1,000 American renters aged 22-35 in apartment communities in the 100 largest US metropolitan areas. Respondents weighed in on the importance of community, their top economic concerns, and the factors that influence their rental decisions.