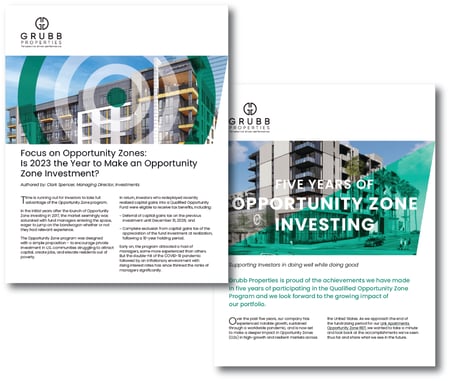 Time is running out to take full advantage of the Opportunity Zone program. Qualified Opportunity Zone (QOZ) investing represents one of the greatest confluences of tax incentives, capital deployment opportunities, and community impact made available to investors in decades. Now is the time for investors to take full advantage of this program.
The Link Apartments OZ REIT will hold its final close Dec. 29, 2023.
Contact us today to discuss how we can help you take advantage of the full benefits of QOZ investing.

For more information on the Opportunity Zone program, download our newest thought leadership to learn about Grubb Properties' expertise and strategy in Opportunity Zones, and help determine whether this program is the right fit for you.
Is 2023 the Year to Make an Opportunity Zone Investment?
by Clark Spencer, Managing Director, Investments
Time is running out for investors to take full advantage of the Opportunity Zone program. In the initial years after the launch of Opportunity Zone investing in 2017, the market seemingly was saturated with fund managers entering the space, eager to jump on the bandwagon whether or not they had relevant experience.
The Opportunity Zone program was designed with a simple proposition – to encourage private investment in U.S. communities struggling to attract capital, create jobs, and elevate residents out of poverty.
Five Years of Opportunity Zone investing
Over the past five years, our company has experienced notable growth, sustained through a worldwide pandemic, and is now set to make a deeper impact in Opportunity Zones in high-growth and resilient markets across the United States. As we approach the end of the fundraising period for our Link Apartments Opportunity Zone REIT, we wanted to look back at the accomplishments we've seen thus far and share what we see in the future.