By Clay Grubb, CEO

Can the solution to America's housing crisis be found in the faded, largely abandoned asphalt parking lots of suburban office parks? Grubb Properties believes it can and has been actively implementing that solution.

Office parks with large surface parking lots are often considered relics from the 1960s and 1970s. Grubb Properties has established a model to transform them into vibrant, environmentally friendly hubs for living and working. Grubb is uniquely positioned to execute this strategy successfully through careful site selection, thoughtful construction techniques, and our expertise in developing and managing essential housing.

The concept is straightforward:


Purchase well-located office buildings with large surface parking lots;

Upgrade the office properties and repurpose the parking lots for multifamily housing; and
Build essential housing communities with parking decks that service office tenants by day and residents by night through a shared parking model.
Guided by our five core pillars of resiliency, we select sites near major employment centers, including healthcare institutions and colleges and universities, and with the potential for public transportation or biking alternatives to automobile use.
Creating a New Neighborhood
We first executed this strategy close to home. In October 2014, we purchased an old office building near Montford Drive, a developing entertainment hub in Charlotte. Soon after, we added an adjacent ten-story office building to our portfolio, giving us an entire parcel of more than 10 acres.

Two existing office buildings (A and B) and surface parking lot in Montford Park
The location was ideal, even though the buildings were not particularly attractive. The city had recently extended the Little Sugar Creek greenway near the site, providing excellent bike access to uptown, and an old bowling alley on nearby Montford Drive had recently been renovated, creating an anchor for a new dining and shopping district.

After renovating the office buildings, we turned our attention to the parking lots. The acres of blighted asphalt surrounding the buildings were a deterrent to foot traffic to and from Montford Drive, and rain would run off into nearby Sugar Creek. We developed plans for more than 500 new apartments under our Link Apartments brand, new stormwater management, and a shared parking garage for office and residential tenants.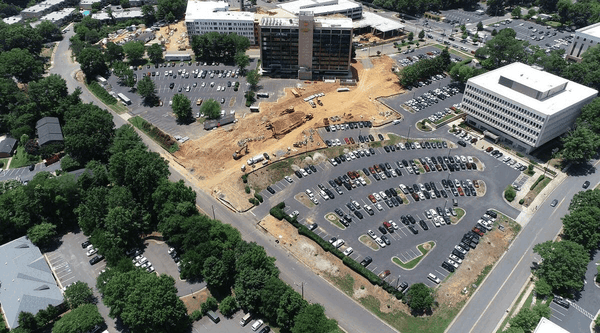 Progress of Montford Park in Charlotte, NC
Replacing the environmental nightmare of a parking lot with active housing and revitalized landscaping was a big win for essential housing and the local community. By re-zoning the land for multifamily use, we essentially got the land for free. This is particularly powerful in urbanizing parts of cities like this one where land is expensive. In these areas, surface parking is a very poor use of that precious resource. Creating the shared parking model helped defray the prohibitive parking costs that often accompany multifamily development. These efficiencies enabled us to pass these savings on to tenants, meeting our target of providing essential housing for those earning between 60% and 140% of AMI while catalyzing the neighborhood for future growth.
Exporting the Model Across the Country
Since then, we've succeeded with this model in Chapel Hill and Winston-Salem, and are actively working to re-zone office properties in the Atlanta and Washington, DC regions, as well as develop more multifamily and office with shared parking in Charlotte. While municipalities more accustomed to zoning for single-family homes sometimes push back on apartment communities, we're confident that our previous success and the ongoing housing crisis in the country will ultimately convince them of the value of our efforts.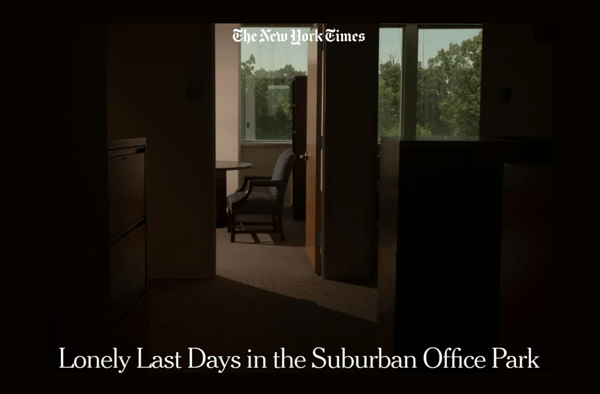 In a recent feature article, The New York Times lamented the "Lonely Last Days in the Suburban Office Park." Emily Badger, the author, explored the impact of the changing tastes of millennials, the shift to "work-from-anywhere" brought on by the pandemic, and the outdated architecture and aging mechanicals of these office buildings.

While many suburban office parks face an uncertain future, the article highlights a potential bright spot: Grubb Properties' strategy to build multi-family housing on the existing surface parking lots.
Learn more about essential housing and Grubb Properties' approach to investing here.


---
Clay Grubb
Chief Executive Officer of Grubb Properties
---

Subscribe to our Essential Housing blog to receive monthly updates:
---