By Clay Grubb, CEO
In December 2021, Clay Grubb celebrated his 20th anniversary as CEO of Grubb Properties. In a recent letter to investors, he outlined some of the lessons he's learned since he began his real estate career. Here is an excerpted version of that letter.


Dear investors,

December 31, 2021, marked my 20th anniversary at the helm of Grubb Properties. Lessons learned at Grubb Properties and through my 40 years of investment experience guide me and my team every day.
The Origins of Resilience
Since joining Grubb Properties in 1993, I have been obsessed with creating the most resilient portfolio of real estate assets possible. I remember writing a paper in the mid-1990s outlining the merits of specific assets in North Carolina and concluding that Cameron Village, North Carolina's first shopping mall, and SouthPark Mall in Charlotte were two of the most resilient assets in the state. In 1998, Grubb Properties tried to team with the owners of SouthPark Mall to evolve our company into one that focused on developing mixed-use assets surrounding these trophy malls.
We realized that while the mall followed the three golden rules of real estate– location, location, location–it was missing a critical investment thesis: basis. The malls themselves traded at such a premium that there was no room for upside. So how does one create alpha in a fully priced investment? Our goal was to own the next best thing: apartments adjacent to the mall. People will always have to live somewhere, and if all other things were equal, they would choose to live next to wonderful lifestyle amenities.
What we thought was a wonderful business plan vanished overnight because of the Asian financial crisis of 1997-1998. That taught us another unexpected but important lesson: What happens elsewhere in the world matters domestically. While real estate markets are local, capital markets are international, and both are material factors in the success of any real estate investment.
The Seeds of Link Apartments

℠
While our dream of owning premium apartments adjacent to trophy malls slipped away, we shifted to focusing on arguably the next best thing: the town center. We decided to pursue developing those trophy town centers with our Sterling Apartment communities. Over the next decade, from 1998-2008, Grubb Properties built some of North Carolina's trophy urban assets including the Ratcliffe, Gardens on Glenwood, Latta Pavilion, and Morrison.
Unfortunately, the resiliency of those investments proved to be fleeting for several reasons. One was that we underestimated how fragile retail tenants were when times became difficult. I quickly learned that most retailers do not believe a lease is a binding agreement, which means if they didn't make money that month, they didn't bother to pay the rent. Second, we found ourselves in this weird era where renters did not stay in their apartments for long because lenders were throwing money at them to buy homes and condominiums. As a result, by 2005, Grubb Properties had more condominiums for sale than in any period since the frenzy of the mid-1980s. I even agreed at that point to convert our most resilient apartments, the Sterling Dilworth Apartments that anchored the town center of the tony Dilworth neighborhood, to condominiums. Our timing was impeccable, and it produced tremendous returns despite many unforeseen challenges.
While we did not hold Sterling Dilworth for long, the 2001 development would prove to be the initial investment prototype for what would become the Link Apartments℠ brand. Given the tremendous success of the lease-up of Sterling Dilworth, we started formulating a strategy, and in 2003, I presented the former First Union with my first proposal to build a community that was all micro-units. It would be 240 micro-units on South Tryon Street in downtown Charlotte overlooking their new park, The Green. While bank officials didn't bite on my proposal, they were so impressed with the Grubb Properties team that they hired us to build the Ratcliffe, which would become the first premier high-rise condominiums in downtown Charlotte, on that same site. While my dream of building a resilient urban housing community for young adults was put on hold, I am proud of the role we were able to play in transforming the South Tryon neighborhood. In hindsight, the lesson learned was one of focus: If you truly want to be the best, you must learn to say no to wonderful opportunities that will be a distraction.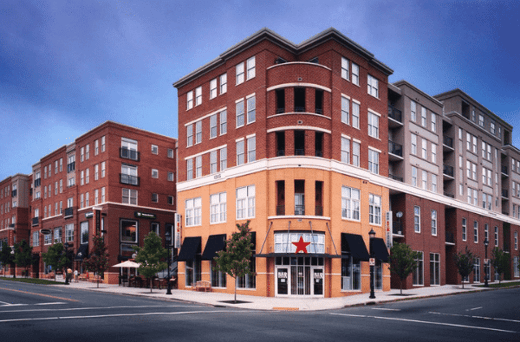 Sterling Dilworth
The Move Toward Urbanism
In December 2009, right in the teeth of the greatest financial crisis of my lifetime, we launched our first micro-unit project, Mezzo One, adjacent to the premier Morrison mixed-use project in Charlotte and near the SouthPark mall. While it was a financial success, we felt like it was a failure from a strategic standpoint. We quickly realized our future renter wasn't that attracted to the mall. The Millennials' taste for an urban environment was evolving. We immediately realized that we needed to adapt to this developing new lifestyle.
This encapsulated another lesson learned. As Charles Darwin said, "It is not the strongest of the species that survives, nor the most intelligent. It is the one most adaptable to change." The same applies to real estate development.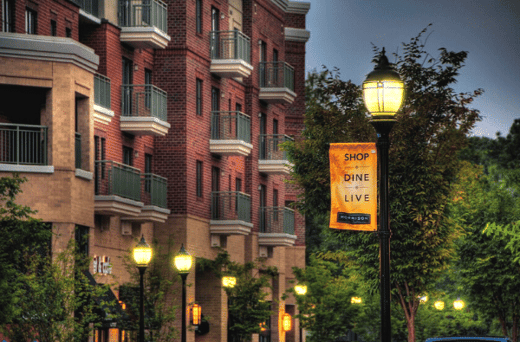 Mezzo One
Succeeding through Adversity
Over the next decade, we began to redefine what would be the anchor of a desirable community: the hospital, the research university, the mass transit stop, and the urban neighborhood with trails, greenways, and ideally breweries. We also realized that the 'Sterling' name was not meaningful to this new world and created the Link Apartments℠ brand.
Today, I am proud to say that our focus on developing Link Apartments℠ in resilient and desirable locations proved to be extremely fortuitous during the pandemic. While many of our peers were unable to collect their rent in the spring of 2020, our portfolio thrived with over 98% successful collections each month of the year, and our year-end occupancy set a record. This seeming miracle resulted because the jobs many of our residents held – tech workers, hospital employees, researchers, and other essential workers – were in greater demand because of the pandemic. Our residents were in a much different financial and career situation than someone at a service job at a mall.

That suggests another lesson: Predictability in an increasingly volatile world becomes more valuable every single day.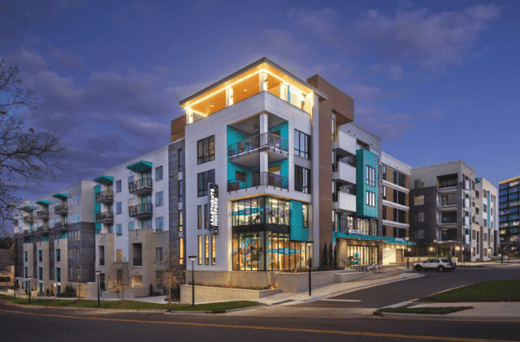 Link Apartments℠ Montford in Charlotte, NC
The Value of Teamwork
While I am proud of the strides Grubb Properties has made in the last two decades, I am most proud of the trusting team environment we have created. This year will mark the 30th anniversary of Rob Duguid joining the company. He now heads all our construction nationwide. Next year marks my 30th anniversary as a full-time team member, and 2024 will mark the 30th anniversary for Megan Slocum, who now heads our Link Apartments℠ development nationwide. And 2025 will mark the 30th anniversary for President and Chief Operating Officer Scott Brown. The four of us truly grew up in this business and we have been extremely fortunate to attract many more talented team members whose tenures are impressive. I think the greatest attribute that comes from having such a close team was evident in the results of this year's employee satisfaction survey. Out of more than 200 team members responding, over 99% said they were satisfied or very satisfied being a member of the Grubb Properties team.
And that leads to the final lesson: The best decisions are products of Working Together, the first two words of our Vision.
Thank you for all your continued support as we continue to learn, build value, and create greater economic mobility opportunities for many Americans in our housing-starved country.
Sincerely,



Clay Grubb
CEO, Grubb Properties

Learn more about Link Apartments℠ and Grubb Properties' approach to investing here.
---
Clay Grubb
Chief Executive Officer of Grubb Properties
---

Subscribe to our Essential Housing blog to receive monthly updates:
---