By Sherry Long, Senior Vice President, Investments
At Grubb Properties, we believe in honest and open communication, and nowhere is that more important than our investor relations initiatives. Transparency of our funds and fund activity is core to our business philosophy. We strive to ensure that we constantly improve our service and communications with our investors.
Among the highlights of our initiatives:
Complete reporting and fund documentation:

Through our Quarterly Reports, Quarterly Investor Summary Reports, individual investor Fund Financial Statements, and electronic tax documents, we ensure that our investors stay informed throughout the year. And we're always available by phone or e-mail to answer any specific questions.



Thought leadership:

Regular white papers providing investment, management, and market insights offer our experts' best ideas, while investor webinars and presentations present our investors with the opportunity to communicate with our investment professionals directly and hear the latest on our essential housing initiatives.



Increased electronic account management:

We recently redesigned our investor portal to provide easier navigation between investments, reports, and documents and now offer electronic submission for all fund documents. Of course, security is paramount, with multi-factor authentication to ensure our system can be utilized with confidence.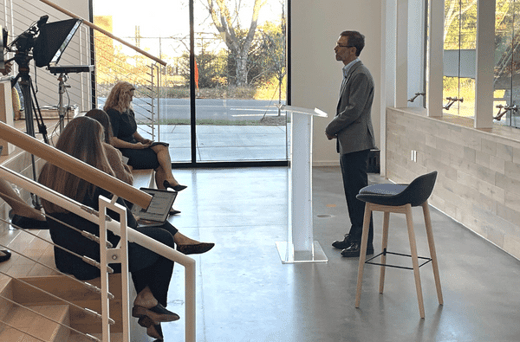 Our Investor Relations team preparing for our 2021 Annual Investor Meeting
Opportunities for feedback:

We field an Annual Investor Experience Survey to ensure our investors have a voice, and we use the survey results to prioritize future development. In addition, our Annual Investor Meeting offers us the opportunity to express our gratitude to our investors and gives our investors a chance to meet the people behind Grubb's funds. This year investors will also have the opportunity to tour some of our Link Apartments communities in person.


We believe outstanding personal attention is one reason many of our investors have been with us for years and have trusted us with multiple investments.

To continue providing top-quality service to our growing investor audience, we have expanded our team. These new members join Jennifer Flora, director, investor relations, who manages all investor communications, and due diligence requests and has been with Grubb Properties for almost four years.
Taylor Prezelski

, associate, investor relations, and

Will Whelan

, associate, investor relations. Taylor and Will help with developing, communicating, and maintaining valuable long-term relationships with Grubb Properties' investors. They proactively monitor and document all significant communication, serving as a point of contact for all investors and shareholders by communicating the company's investment message to the investment community on behalf of Grubb Properties.



Kayleigh Herre

, analyst, investor relations. Kayleigh assists with reporting for fund investors and our joint venture partners. She works closely with our finance and accounting teams and handles data integration across our internal platforms. She works on other projects as needed, such as planning the annual investor meeting, working with the team to standardize policies/procedures, and most recently assisting in the transition to our new CRM system.


If you're interested in learning more or have suggestions on ways in which we could improve our service, please reach out.


---
Sherry Long
Senior Vice President, Investments
---

Subscribe to our Essential Housing blog to receive monthly updates:
---