By Grubb Properties' Development Team
Grubb Properties recently began the second phase in the redevelopment of Chapel Hill's Glen Lennox community. Once home to our founder (and current CEO's father), Robert Grubb, Grubb Properties purchased Glen Lennox in 1986. In recent years, we've worked closely with residents and the surrounding community to develop and execute a transformational 20-year plan for the Chapel Hill, NC community. The program respects the history of the community while modernizing it for long-term success. We've now moved into the project's second phase, developing a new Link Apartments℠ community, new retail and office space, and better infrastructure for biking and pedestrian access.
Link Apartments

℠

Calyx
Construction has begun on Link Apartments℠ Calyx, a new seven-story, 304-unit community located at the intersection of Lanark and Maxwell. The new, modern building design will feature a saltwater pool, co-working space, 24/7 fitness and yoga center, a parking garage, and a rooftop resident lounge. The apartments will consist of a majority of studio and one-bedrooms in addition to two-bedroom apartments.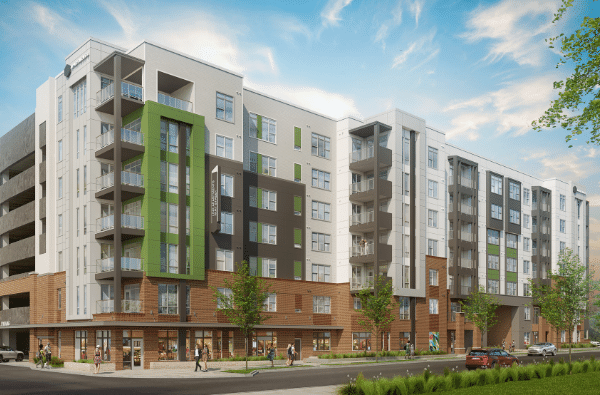 Rendering of Link Apartments

℠

Calyx
In keeping with our commitment to sustainability, Link Apartments

℠

Calyx aims to join the neighboring Link Apartments

℠

Linden community in being recognized by the National Green Building Standard (NGBS) with a Silver Certificate. NGBS is the only green building rating system for homes and apartments approved by the American National Standards Institute (ANSI). Properties are graded on six levels: energy efficiency, water efficiency, resource efficiency, lot development, operation and maintenance, and indoor environmental quality.


The "Calyx" name comes from one of the vibrant designs of pioneering female designer Lucienne Day, whose textile patterns became an iconic look of the 1950s and 1960s. Linden is also named after one of her designs and the names are meant to honor Glen Lennox's mid-century roots.
New Retail and Office
In addition to Link Apartments℠ Calyx, we're also laying the groundwork for a new retail district at the heart of Glen Lennox. The easily accessible retail district will include an ample common space surrounded by trees, flowers, and pedestrian-friendly storefronts with al fresco dining spaces.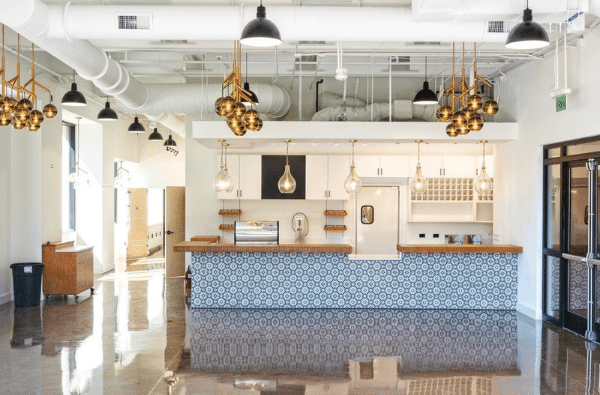 Coco, an upscale café located in The Gwendolyn office building





Our next office building will be built around this open space. Not yet named, the project is planned to be slightly larger than The Gwendolyn, our Phase One office building, at 120,000 square feet. It will also feature 25,000 square feet of ground-floor retail earmarked for a market or food hall. We plan to break ground in January of 2023, with tenancy in summer 2024.



New Biking and Transportation Infrastructure
Biking and alternative transport mobility have been a part of the Glen Lennox vision from the beginning. We've been working with Copenhagenize, a leading bike planning firm out of Denmark, to ensure that Glen Lennox residents can access the things they need without a car. The Town of Chapel Hill has been instrumental in implementing these plans.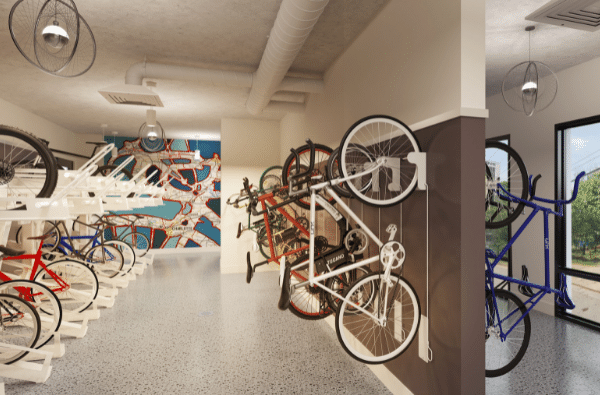 Cycle centers at our properties designed by Copenhaganize


As part of the next phase, a connection between Berkley and Lanark Roads will establish a clear street grid. This will serve as a divider between Glen Lennox North and the retail district, easing navigation around the community. The project will include traffic calming measures to further ensure the safety of bikers and pedestrians. In addition, commuters will soon have a new bike shelter at Frasier Park, and we'll be adding more bicycle stands and a bikeable connection to Meadowmont from the greenway.


To see the latest on what's happening at Glen Lennox, please visit the Glen Lennox Vision website.
---
Subscribe to our Essential Housing blog to receive monthly updates:
---