By Clark Spencer, Managing Director, Investments
Grubb Properties' essential housing strategy is a perfect fit for Opportunity Zones. Created under the Tax Cuts and Jobs Act of 2017, Opportunity Zones were designed with a simple proposition – to encourage private investment in communities within the United States that are struggling to attract capital, create jobs, and elevate residents out of poverty.
The legislation designated 8,764 Census tracts across all 50 states and U.S. territories as Qualified Opportunity Zones and offered tax incentives to spur economic development within these Zones. By investing recently realized capital gains into a Qualified Opportunity Fund, an Opportunity Zone investor is eligible to receive two primary tax benefits:
Deferral of capital gains tax on the previous investment until December 31, 2026; and

Complete exclusion from capital gains tax of the appreciation of the fund investment at realization, following a 10-year holding period.
We knew early on that our emphasis on essential housing was a natural fit for the Opportunity Zone program. Grubb Properties was investing in these areas long before there was any tax incentive for OZ investors. In fact, Link Apartments℠ Manchester, the first Link Apartments community in the Grubb Properties portfolio, was developed in 2012 in a location in Richmond, VA which has since been designated as a QOZ. By the time the QOZ legislation was implemented, Grubb Properties had four Link Apartments℠ communities in service or development in QOZs.
Essential Housing and the National Housing Crisis
On a national level, America is facing a serious housing crisis, with much of the shortfall in the moderately priced rental housing segment, and this is felt even more acutely in underserved communities like QOZs. Years of underbuilding have resulted in a lack of supply, while the large Millennial and Gen Z generations are driving growing demand. For Grubb, providing essential housing, targeted to those earning between 60% and 140% of area median income (AMI), is not just a smart investment strategy – it's also a moral imperative.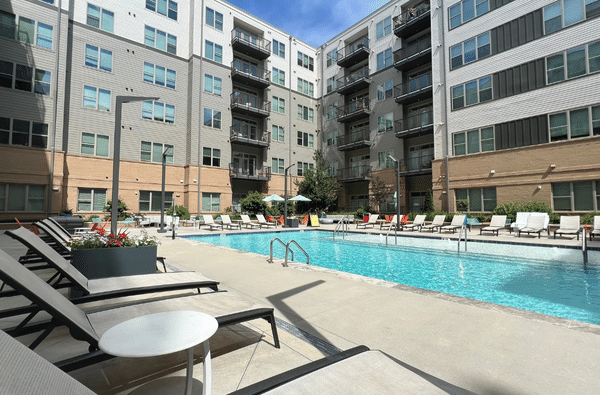 One of many resident amenities at Link Apartments℠ Innovation Quarter in Winston-Salem
We believe we've found a solution to this housing gap that serves all stakeholders – investors, potential residents, and the broader community – and works both in and outside of Opportunity Zones. We enact it through our Link Apartments brand, which is focused on thoughtful design and resident amenities to provide a lower cost, urban infill living opportunity. In developing Link Apartments, we focus on two key differentiators: location and price point. We choose urban locations that are near community amenities, transit options, and major countercyclical employment anchors such as research universities and medical centers.
For Opportunity Zones, we believe that this approach satisfies both the letter and spirit of the program. Unlike many other developers building luxury apartments in Opportunity Zones, our targeted approach to essential housing improves neighborhoods without introducing excessive gentrification impacts. Grubb Properties plan to bring more than 3,000 units of this much-needed essential housing to these communities.
Expanding Across the Country
Since launching the Opportunity Zone program in 2019, Grubb Properties has raised more than $380 million in investments from over 800 investors across the country. In 2022, Grubb combined its three previous Opportunity Zone funds into a single entity, the Link Apartments Opportunity Zone REIT, providing current and future investors with increased diversification, scale, and liquidity.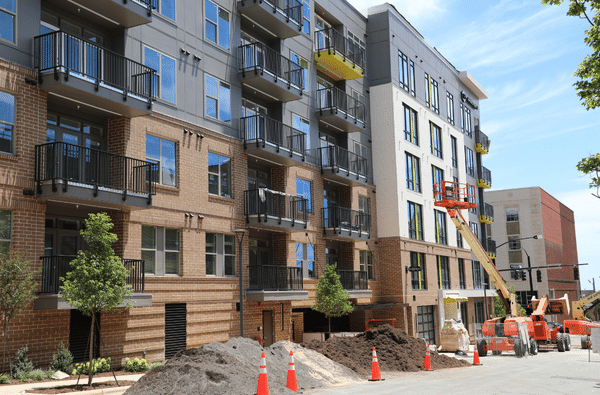 Ongoing construction at our future Link Apartments℠ 4th Street location in Winston-Salem
The REIT currently has 15 Link Apartments communities under development in 10 markets across the country, including New York, Los Angeles, Denver, and Washington DC, as well as Charlotte and Winston-Salem. The market dislocations caused by the pandemic created significant buying opportunities in Tier 1 markets and allowed the REIT to secure marquee sites at deep discounts to pre-pandemic pricing.
The Grubb Opportunity Zone fund program also includes a Community Impact Initiative, enabling creative projects like Grubb's CYKEL Apartments in Charlotte, NC. CYKEL is being constructed without resident parking spaces, and its bike-forward design includes a state-of-the-art cycle center and easy access to the greenway. In addition, CYKEL will designate half of its 104 units as affordable, available to residents below 60% AMI.
Visit our Link Apartments OZ REIT page here to learn more about our Qualified Opportunity Fund program.
---
Clark Spencer
Managing Director, Investments

---

Subscribe to our Essential Housing blog to receive monthly updates:
---