As a vertically integrated company, Grubb Properties' development team handles the full spectrum of project management and development services involved in bringing Link Apartments℠ from initial concept to a thriving community. Corporate Communications Director Emily Ethridge recently sat down with Megan Slocum, Executive Managing Director, Development, for Grubb Properties, to discuss the expanding footprint of Link Apartments℠, Grubb's approach to site selection, development, and the challenges of bringing a community from blueprint to lease-up.
Q: Thanks for sitting down with us, Megan. Can you tell us about your current responsibilities?
A: Sure, I currently oversee and manage the multifamily development division, which is exclusively focused on our Link Apartments℠ brand. This entails everything from rezoning sites, architectural and interior design, permitting, turning over to construction, and supporting operations during the lease-up.
Q: You've been with Grubb Properties since 1994 and have worked in numerous areas of the company. What is different about Grubb today?
A: That's an interesting question. There is so much that has changed and yet there is a lot that has not. When I started with Grubb Properties, it was truly a family-run business. Rochelle (Clay's mother), Clay, and Gordon (brother) were involved in every aspect of the company. The culture was the family feel. As a young manager, it felt as if the entire focus was on multifamily and customer service. As we've grown both in size and our focus, I think we are more sophisticated in our approach. I believe all the years we focused our attention on property management set the foundation for our detailed approach to the Link Apartments

℠ brand.

When we design a building, we first and foremost have the end-user in mind. I think that mindset has always been at the core of Grubb Properties—whether it be the apartment resident, office/retail tenant, investor, or employee.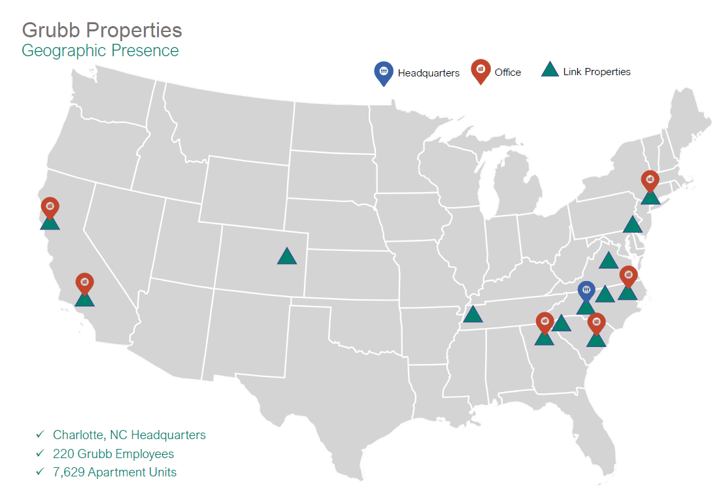 Grubb Properties' presence across the U.S.



Q: The Link Apartments
℠

portfolio has grown significantly across the country. How do you approach development in new regions? What steps are you taking to prepare for the growth?

A: I will be honest, our rapid growth has had its challenges. It really comes down to having good processes in place and trust in the team. We have expanded the development team significantly over the past two years. I've learned that some of our old processes don't work anymore and we need to be agile, to pivot quickly. I am tapping into my operations days and working with the team to create a written plan on how we handle so many aspects of development. For me, ensuring we don't lose all the knowledge we have gained over the past 20+ years is key.
Q: How do you work together with other Grubb Properties teams, like when a developed community is ready to move to lease-up?
A: The lease-up process is a great example of Grubb's culture and vision of Working Together. Although Operations is responsible for leasing up the project, they can only be successful if we, as the development team, set them up well. This goes back to underwriting a project that is realistic and designing a building with the end-user in mind that also fits into the neighborhood.

The developer also puts a business plan together with input from the regional manager, our marketing department, and the transition manager. This business plan lays out not only the plan for the lease-up (rents, velocity, etc.) but also gives the on-site team stretch goals that allow them to improve upon the original proforma plan. It's a road map they are given on day one. In addition, the construction team is an integral part of this process. The different teams meet weekly to ensure that the lease-up team knows exactly what they are getting and when, and also has direct access to the project manager if issues arise.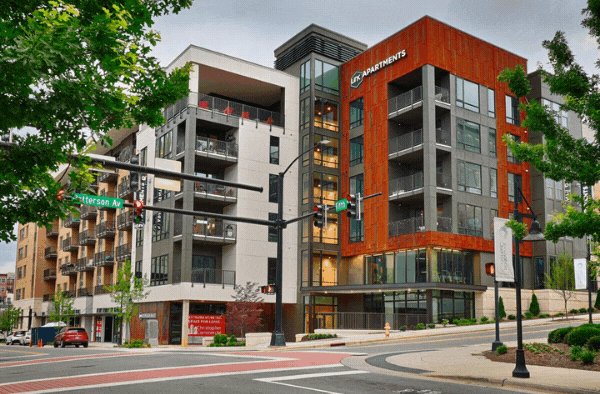 Link Apartments

®

Innovation Quarter from its initial rendering to a fully developed community



Q: Inflation and rising rents have been in the news recently. How are you finding the current leasing environment for Link Apartments
℠

? A: We had four of our fastest lease-ups in the middle of the COVID-19 pandemic. Since all four communities stabilized, we have faced a great deal of volatility with construction costs, rising interest rates, and supply chain issues. Fortunately, to help offset some of these obstacles, rents have grown significantly. However, we do not lose sight that this only exacerbates the housing affordability crisis across the country. As a company, we are continually looking for ways to save money without compromising quality. Our focus is on maximizing the returns for our investors without losing sight of the essential housing niche.


Learn more about essential housing and Grubb Properties' approach to investing here.
---

Subscribe to our Essential Housing blog to receive monthly updates:
---