Grubb Properties' CYKEL Apartments Wins Sustain Charlotte's Inspiring Building Project Award

By Grubb Properties Development Team

We're proud to announce that Sustain Charlotte, a non-profit devoted to advocating for smart growth solutions to Charlotte's sustainability challenges, has named Grubb Properties' CYKEL Apartments as 2022's Inspiring Building Project.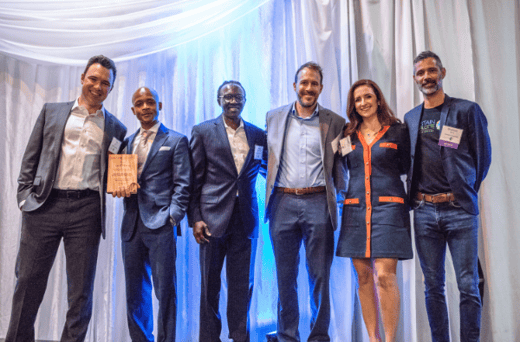 Sustainability Manager, Colin Walker, and Director of Development, Eric Applefield
accepting
the award for Inspiring Building Project at the
Charlotte Sustainability Awards ceremony



CYKEL Apartments, a 104-unit multifamily development in Charlotte's Seversville neighborhood, will be a creative and transformative project for the city – an apartment community zoned and designed without parking. The development offers innovative solutions to address environmental concerns and the city's shortage of affordable housing.
Half of the units will meet affordability standards for residents earning below 60% of area median income. Not including parking allows Grubb Properties to build below-market-rate units without any public subsidy.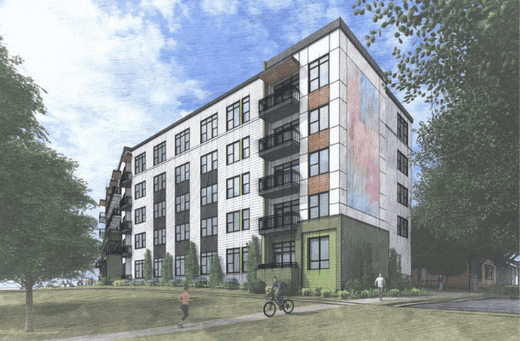 Renderings of CYKEL Apartments

CYKEL will encourage and enable a car-free lifestyle through a biking-forward design that includes a ground-floor cycle center. The location, next to the Stewart Creek Greenway, bus route, and streetcar line, and one mile from uptown Charlotte, also encourages alternative forms of transportation. Residents will commit to not owning a car as part of their lease agreement.
Grubb Properties worked for months with residents, city staff, and elected officials to get approval for the rezoning. The company also consulted with the local biking community and architect Cluck Design to help design the project and its amenities. The number of bike racks and spaces available to residents and the public, the ground-floor cycle center with maintenance features, and the state-of-the-art package system for delivered goods will all support residents in making sustainable transit choices.
CYKEL Apartments is part of Grubb Properties' Community Development Initiative in its Qualified Opportunity Fund program (now the Link Apartments Opportunity Zone REIT). That fund program allows Grubb Properties to direct capital into Opportunity Zones, underserved neighborhoods that had been overlooked for investment. We created the Community Development Initiative to target community investments in Opportunity Zones in Charlotte's historic West End, and allocated 10% of all the funds raised in the 2019 Grubb Qualified Opportunity Fund to this initiative, totaling $14 million.
We hope that CYKEL Apartments will serve as proof of concept for a car-free lifestyle in Charlotte, prompting residents and local officials to support more transit-oriented development and creative design. We believe this concept could be replicated in other locations with a similar greenway nexus, transit options, and proximity to a business district.
For more information about Grubb Properties' Opportunity Zone program, click here.
---

Subscribe to our Essential Housing blog to receive monthly updates:
---