Grubb Properties hasn't slowed down in 2022. As we mark the halfway point of the year, we are proud of what we've accomplished in our finance, acquisitions, construction, development, and management teams and beyond.

Even in turbulent times, we are committed to providing more essential housing in resilient and high-growth markets across the United States. As interest rates rise, more will be turning to the rental market, further exacerbating the existing lack of housing and making our brand of essential housing even more important.

Below is an update on where we stand at the midpoint of this year, and what we have to look forward to.
Finance
Economic changes and rising interest rates are at the top of many investors' minds, with these forces further complicating an already complex market.
Over our nearly 60-year company history, we have learned that it's not enough to focus on market selection and cost of entry – we also have to focus on how we manage debt. That continues to play a major role in our investment strategy. Our current portfolio of Link Apartments℠ assets has an average loan duration of approximately 10 years, insulating those properties from the effects of rising rates.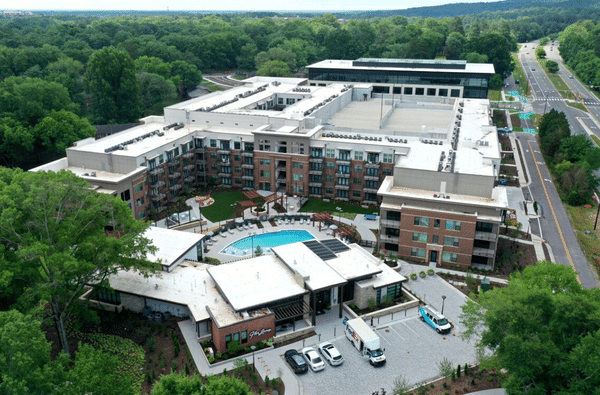 Link Apartments℠ Linden in Chapel Hill, NC
In the first half of 2022, we closed on fixed-rate HUD loans for two of our Link Apartments communities. Link Apartments℠ Linden in Chapel Hill, N.C., completed a one-time HUD loan rate modification, reducing the fixed interest rate from 4.80% to 3.35% for the balance of the loan term, which expires in May 2061. This results in interest savings of more than $365,000 per year.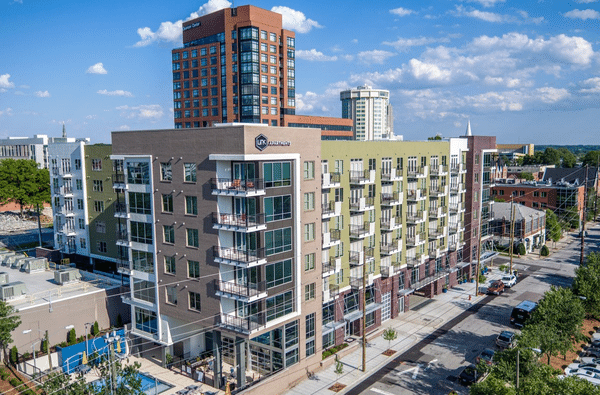 Link Apartments℠ Glenwood South in Raleigh, NC
The finance team also closed a refinance at Link Apartments℠ Glenwood South in Raleigh, N.C., with a 35-year HUD loan at a fixed rate of 2.39%, saving more than $755,000 per year.

If you want to learn more about how we're navigating the rising-interest-rate environment, James Hochman, Grubb's Chief Financial Officer, recently authored a paper on the topic – download it here.
Construction Update
Our construction team is hard at work completing the four essential housing communities we expect to open this year. We recently posted an update on the progress at Link Apartments℠ Broad Avenue in Memphis, Tennessee – our first Link Apartments community in that state.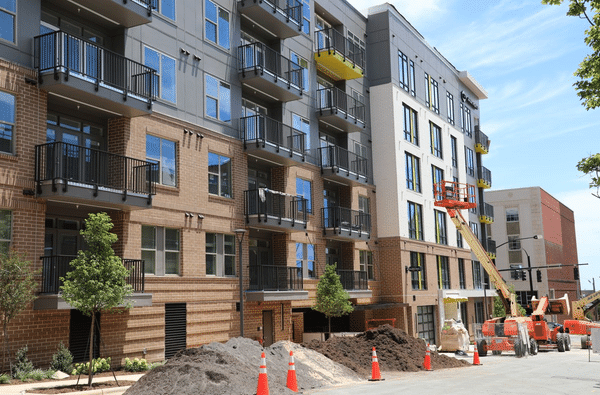 Construction at Link Apartments℠ 4th Street in Winston-Salem, NC
At Link Apartments 4th Street in Winston-Salem, N.C., we are coordinating with the City of Winston-Salem Public Arts Commission for a sculpture proposed at the corner of 4th and Spruce. Davidson Steel, our local steel supplier for this project, donated four 12' steel beams to artist Mona King for the project.

Link Apartments Montford Phase 2 and Link Apartments Mint Street, both in Charlotte, also should open for leasing this year.

And construction is underway on future essential housing projects in New York City, Washington DC, Denver, Oakland, and more!
Acquisitions
Our acquisitions team continues to use our data-driven, strategic approach to source opportunities in resilient and high-growth markets across the country.

So far in 2022, we have closed on three projects that will bring more essential housing to neighborhoods that need it. One, Reston Corner in Virginia, is a 294,000-square-foot commercial property on 15 acres that is already entitled for the development of 145 multifamily units. The key elements to this location are a new Metro station within walking distance, set to open in the summer of 2022, and a new Wegmans grocery store directly across from the site.
Opportunity Zones
Early in 2022, we relaunched our Opportunity Zone investing platform through Link Apartments Opportunity Zone REIT, which resulted from the merger of our three prior Qualified Opportunity Funds, The REIT's assets comprise 19 properties in markets nationwide, including New York, Los Angeles, Charlotte, and more. The REIT has a gross property asset value of $430.8 million.

The Link Apartments Opportunity Zone REIT will fundraise through the end of 2023, with regular closings throughout that time period.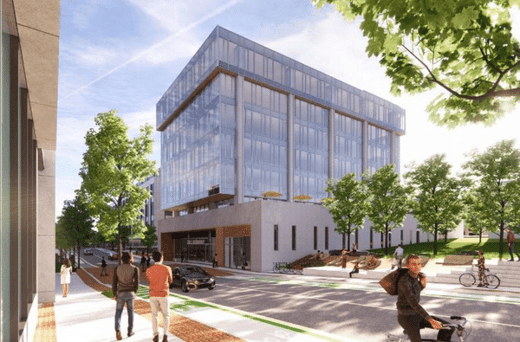 Rendering of 136 E Rosemary building in Chapel Hill, NC
Many of our OZ properties are seeing significant progress. One noteworthy event this spring was the signing of a lease with Innovate Carolina to join the 136 E Rosemary building in downtown Chapel Hill. We significantly renovated and repositioned that building in pursuit of a shared vision for a new innovation district downtown. This lease is a significant step towards realizing that vision. The university's innovation hub will take approximately 20,000 square feet of space in the building. It will be home to Innovate Carolina, the university's central team that provides guidance, tools, and resources to support people and organizations both on campus and in the community pursuing innovation, entrepreneurship, and economic development.
Awards
Our hard work has already been recognized through several awards in 2022! CYKEL Apartments, a 104-unit community in Charlotte, won the Sustain Charlotte Award for Inspiring Building Project. This project is zoned and designed without parking and will feature amenities to enable and encourage the use of alternative transportation.




Our CEO Clay Grubb was recognized for his leadership on Business North Carolina's 2022 Power List and Charlotte Business Journal's Most Admired CEOs.

Clark Spencer, Managing Director – Investments, was named a Top 25 Fund Manager by Opportunity Zone Magazine.

And Colin Walker, Sustainability Manager, was the first person in the country to achieve the NGBS Green Pro certification.

You can see all our recent awards on our Awards and Recognition page.
We look forward to a productive and positive rest of the year!


---

Subscribe to our Essential Housing blog to receive monthly updates:
---